The Beginner's Guide to Buying a Grinder
When it comes to coffee brewing, switching from pre-ground to fresh ground is one of the most striking changes you can make at home. Coffee stales rapidly once ground, and there are few good ways to preserve the freshest flavors for an extended period of time. Whenever possible, it's best to grind each time you brew so your ground coffee is as fresh as it can be.
If you'll pardon a little coffee science for a moment (lab coats and goggles on, please!), let's take a look at why pre-ground coffee can be underwhelming. Roasted coffee is susceptible to a number of staling factors, and will expire as its flavor degrades irreparably over time. One of the chief elements of staling is oxidation, where oxygen molecules in the air react with the various flavor compounds in coffee and cause them to change or break down. Fresh coffee is vibrant and lively, bursting with flavorful oils and sparkling aromatic compounds. When exposed to oxygen and time, however, your coffee's oils will go rancid, and the aromas -- naturally volatile, fleeting, and rather delicate -- will dim and dissipate. The result: what was once an expressive and unique coffee experience has now faded into a more generic roasty "coffee" flavor.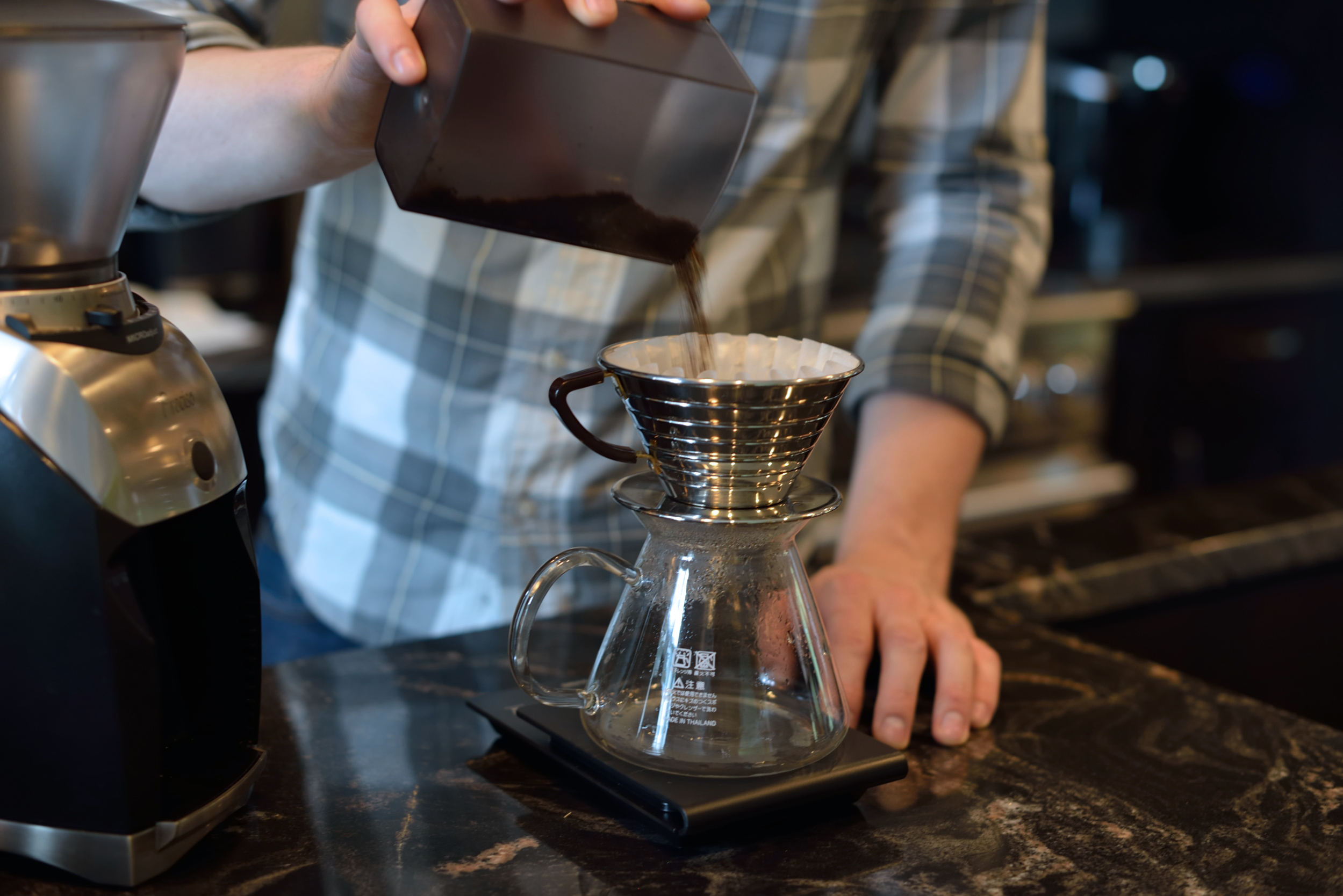 Coffee staling will happen gradually over time, even with whole bean coffee. But when you grind coffee, you increase the overall surface area dramatically. All that extra surface means even more exposure to oxygen, light, and heat, and the resulting flavor loss is noticeable in a matter of minutes. Buying a bag of pre-ground coffee is awfully convenient, but more often than not that bag is stale before it hits the shelf.
But wait, there's good news! Having your own grinder (sometimes called a coffee mill) at home means you can fend off staling and capture your coffee's very best qualities each time you brew. Still, grinders can be an expensive investment, and with so many choices on the market it can also be difficult to find which is most suitable to your needs. It's understandable that selecting a grinder can be daunting, so where do you start?
In this guide, we'll walk you through the basics of buying a burr grinder - from the core principles of grinding to product recommendations to fit your needs and budget. Part One is all about the basics, and Part Two is for those of you who are ready for the next steps, including moving on to the Holy Grail of home coffee brewing: espresso! So let's get started, shall we?
In our first installment, we take a look at the reasons a burr beats a blade, and what that means for your brews. If you're just getting started in the coffee world, or you're ready to move past a whirly blade grinder but aren't sure what to get, this guide's just for you. Start here for a primer on why burr grinders are better for your coffee, and what to look for when buying your own. Part One: Burr Grinder Basics
Know your way around a V60, and think you're ready to break open that piggy bank to put down some real coin on a grinding machine? Check out our second installment for tips on moving up in the grinder world, especially if you're thinking about getting into espresso. We'll cover everything from modest consumer grinders that pack a punch, to superstar commercial machines for truly fanatical coffee enthusiasts. Part Two: Stepping Up Your Grinder Game